Search #2 Discussion Groups
The Search, Episode 2 is "Who am I?" To find clues as to the meaning of life, we first look at ourselves. Who am I? Is there more to me than matter? Is there more to us than meets the eye? We talk with neuroscientists, psychologists, composers, and artists to examine the mystery of you. If you're just a body, then satisfaction in life should come from tending to simple bodily needs. Fill your stomach, be comfortable. But there's more to you then that. You are material and immaterial. And that unseen part of you craves for so much more. As C.S. Lewis once said, "If we find ourselves with a desire that nothing in this world can satisfy, the most probable explanation is that we were made for another world."
If you would like to participate in a discussion group here are two options: You can choose to attend in person on Tuesday, August 10 at 7:00 pm at the Sacred Heart Rectory or you can participate via Zoom where you can join from PC, Mac, Linux, iOS or Android: https://cccconfer.zoom.us/j/94197681757
A Message from Rev. Bernard John D'Sa
about a new program being introduced at Sacred Heart
My Dear Parishioners,
It gives me great joy to share with you that our parishes now have a subscription to FORMED. FORMED is a premier online platform filled with over 4,000 Catholic studies, movies, audio dramas, talks, e-books, and even cartoons for our children. FORMED has content from over 60 apostolates, including Augustine Institute, Ignatius Press and the Knights of Columbus, with material that is professionally produced, engaging, and solid in its catechism. Best of all, this material is free to you.
Our parishes will be using the material on FORMED to support our ministries and provide continuing education for staff members and parishioners, as well as outreach for our sick and homebound members. Much of FORMED's content is available in both English and Spanish. You have easy access to all of the material on FORMED to support your own faith journey and that of your family members. You can enjoy FORMED on your computer or on your television with an inexpensive Roku device or Apple TV.
My hope and prayer is that the content on FORMED will enrich, deepen, and inspire your faith. Please pray for our benefactor who has made a FORMED subscription a reality for our parishes. Please pray for the people at the Augustine Institute who create this wonderful and much-needed Catholic content for our people.
Our Parishes will use a program in FORMED for guided biweekly group discussions. We have chosen to use "THE SEARCH" program from many of the programs offered by FORMED. The Search is an innovative video-based journey that tackles the key questions of every human heart. In seven beautifully filmed episodes, Chris Stefanick and experts from the fields of science, medicine, psychology, art and religion examine our place in the larger story of existence.
We will officially launch this program after the weekend Masses on July 11th. You will be helped to download the FORMED App on your Phones and the route to access this program. The first Episode of "The Search" will also be introduced that day, for you to view and study before the first discussion session. The discussion sessions will happen both in-person and via Zoom at the same time. Zoom participants will join the discussions via computer in the meeting room with the other participants. The discussion sessions will take place at Sacred Heart Church.
Our first Zoom/in-person discussion and sharing of the 1st Episode will be on July 27th at 7 pm. The 2nd Episode will also be introduced on the 27th for our next discussion. The group will meet every second and fourth Tuesday at 7 pm for sharing via Zoom/in-person.
Liz McGee-Houghton has gladly accepted to be the facilitator/coordinator of this program. She can be reached at elizhoughton@gmail.com or (707)599-6138 to register.
May the good Lord bless you and all of your loved ones!
To gain access to all of FORMED's content, follow these simple steps:
*Go to https://signup.formed.org/
*Enter our parish's zip code: 95501 / St. Bernards Catholic Church
*Enter your name and your email address.
That's it! You're in. Now you can get the free FORMED app for your phone by searching FORMED Catholic in your app store.
The new short video by Elizabeth McGee-Houghton on how to sign up for the new FORMED program has also been posted on our Sacred Heart YouTube channel.
Why are we here? What's life all about?
Sometimes we get so caught up in the depth of our faith that we forget what it was like to first wrestle with the big questions – Who am I? What am I searching for? What's our shared story? Who is Jesus? Why do we need a Church? Is there a God? We all need to get back to the basics to make sure the foundation is strong.
We are excited to introduce The Search, a new seven part Augustine Institute Original Series with the goal of lighting that first fire in those who don't yet know the faith or reigniting the fire in those who need a primer on the foundational questions. The Search is now on all Parish FORMED subscription at no additional charge, here in English and La Búsqueda in Spanish

RESOURCES
Make the most of your FORMED subscription. Use these valuable resources to invite and inspire your parish community. We're excited to support your ministry at the parish!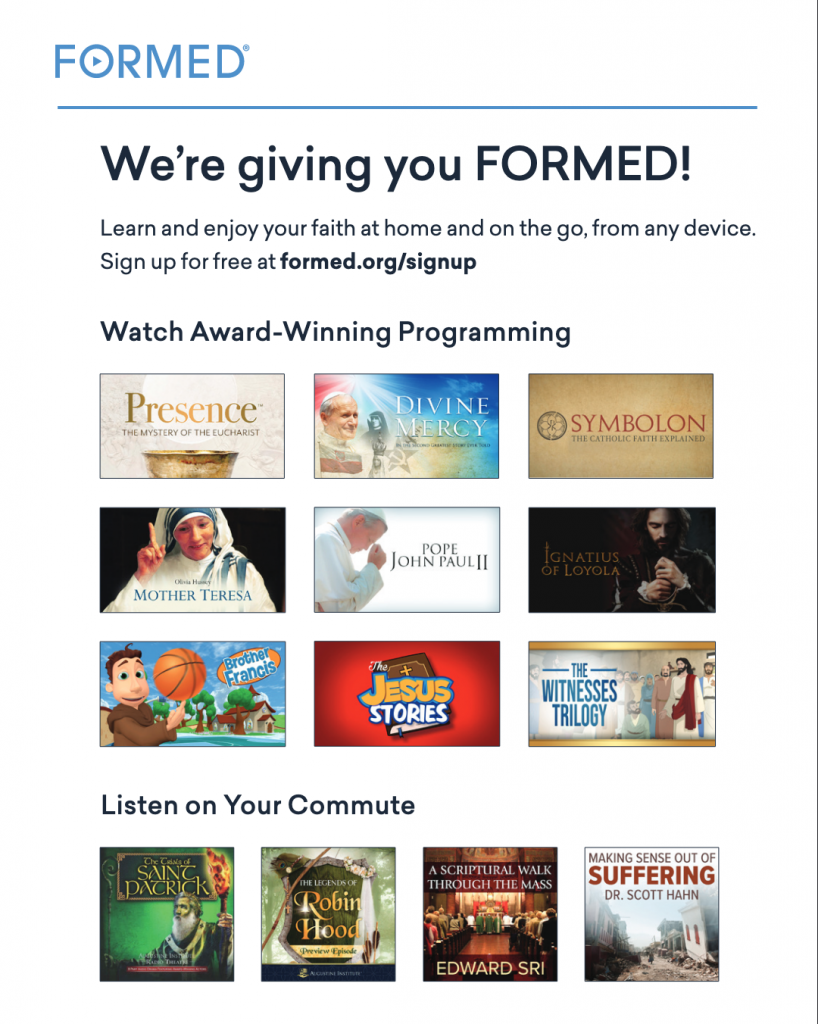 Frequently asked questions
As with any new program, there is a lot to learn and many questions to be answered. Going to the FORMED frequently asked questions (FAQ) page is a great place to start.
The new short video by Elizabeth McGee-Houghton on how to sign up for the new FORMED program has also been posted on our Sacred Heart YouTube channel.