Sacred Heart Parish
Striving to be a grateful parish following Christ by loving God, and loving our neighbors as ourselves through our words, deeds, and thoughts.
Click on the links below to go to the desired page.
Second Sunday in Ordinary Time – 9 am Mass @ Sacred Heart
New Church Calendars Are Here
The Sacred Heart calendars in English are in the church.
Many thanks to the Knights of Columbus!
We are still awaiting the calendars in Spanish.
Betty Chinn Ministry PBJ Donation Drive
To increase the amount of food reserves this winter for Betty Chinn's ministry to the homeless, the Italian Catholic Federation will be coordinating a peanut butter and jelly donation drive at St. Bernard and St. Joseph and Sacred Heart Churches. Donation boxes will be in the vestibule of the church for your donations from now until February 13th – Super Bowl Sunday.
At the end of the donation drive the Italian Catholic Federation will award the parish with the most peanut butter and jelly donations as the Champions of the Super Bowl of Peanut Butter & Jelly!
Thank You Papsteins and Eureka Radio
Thank you to all those who participated in the Prayer and Adoration for the Sanctity of Life at St. Bernard's Church.
The next Adoration and prayer will be: Feb 4, 2022 at Sacred Heart Church.
8 am – 4:45 pm Adoration
4pm – 4:45 pm confessions
4:45 – 5pm Benediction
5:00 pm Holy Mass
There will be sign-up sheets available in the back of each church. Two people are required for each hour. If you do not know which hour you might be able to cover, please let me know and I will contact you as the Friday approaches. Sue Rydz 707-616-6450
Catholic Kids Homilies
Catholic Kids Media is an effort to evangelize the culture, providing quality Catholic programming for kids that does not water down Catholicism. We develop resources for parents and teachers to instruct children in the Faith and practices of prayer. These videos tackle tough questions such as "What is the Eucharist?" and "What is the Trinity?" in order to help kids understand and love the strange and wonderful thing that is Catholicism, so that they might live Christ-centered lives.
Liturgy Schedule
Sacred Heart – St. Bernard – St. Joseph Parishes
Saturday
8:30 am – Mass @ Sacred Heart Church
3:15 pm Confessions @ St Joseph Church
4:00 pm – Mass @St. Joseph Church
Sunday
7:30 am – Mass @ St. Joseph
9:00 am – Mass in English @ Sacred Heart
10:30 am – Mass @ St. Bernard
12:15 pm – Mass in Spanish @ Sacred Heart
Monday
7:30 pm – Spanish language Mass
Tuesday
7:30 am – Mass @ St. Joseph
Wednesday
12:15 pm – Mass @ St. Bernard
6:00 pm – Adoration and Confession @ Sacred Heart
7:00 pm – Mass @ Sacred Heart in Spanish
Thursday
7:30 am – Mass @ St. Joseph
Friday
12:15 – Mass @ St. Bernard
Catholic News
We have created links to the best Catholic news sites so that you can keep current in the latest national and international Catholic news.
---
America: The Jesuit Review
Our flagship magazine is the leading Catholic journal of opinion in the United States. First published in 1909, America magazine is known across the Catholic world for its unique brand of opinion and analysis. From theology and spirituality to politics, international relations, arts and letters, and the economy and social justice, America's coverage spans the globe. We tell the stories that matter most to the church and the world. Our award-winning website is americamagazine.org.

Catholic News Service
Catholic News Service has a rich history of journalistic professionalism and is a leader in the world of Catholic and religious media. With headquarters in Washington, offices in New York and Rome, and correspondents around the world, CNS provides the most comprehensive coverage of the church today.
And in the digital age, CNS is showing a new audience the accuracy that has always been its hallmark with its video journalism and documentary production.

Vatican News
Vatican News is the news portal of the Holy See. Surpassing the concept of being a simple digital platform, Vatican News seeks to respond and, in a certain sense, to anticipate the continual changes taking place in communication, with the objective of "communicating the Gospel of mercy to all people" in various cultures. It communicates and interacts through audio, video, text and images on a multi-lingual, multi-culture, multi-channel, multi-media and multi-device plain.
Keep up with the latest Catholic News
Pope Francis suggested on Monday that getting vaccinated against the coronavirus was a "moral obligation" and denounced how people had been swayed by "baseless information" to refuse one of the most effective measures to save lives.

Record store surprised by Pope Francis' visit: "He's an old customer of ours".

Pope Francis surprised a record shop in Rome with an impromptu visit to say hello to some old friends.

The Pope spoke to the Vatican newspaper, L'Osservatore Romano, about lessons from St. Joseph on parenting.
RITE of Christian Initiation of adults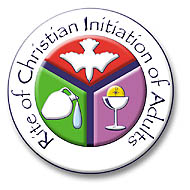 RCIA: An Invitation to Quench Our Deepest Longing
The human heart seems ultimately to manifest itself in the desire to be loved and to love in return. Until then, as St. Augustine said, our hearts are restless until they rest in God who is Love. As Catholic Christians, we are privileged to share God's love through Mass, the sacraments and how we live our life.
Do you know someone thirsting for God? Do you know someone not baptized or baptized in a different Christian tradition thirsting to know what it means to be Catholic? Do you know someone already Catholic but who has not yet received Confirmation or the Eucharist? They may be thirsting, too!
The Rite of Christian Initiation of Adults (RCIA) is a place to ask questions and seek understanding about our Catholic faith. We would love for you to invite anyone you know who thirsts for the God who loves them. For more information, please contact Ann Lynch or call the parish office.